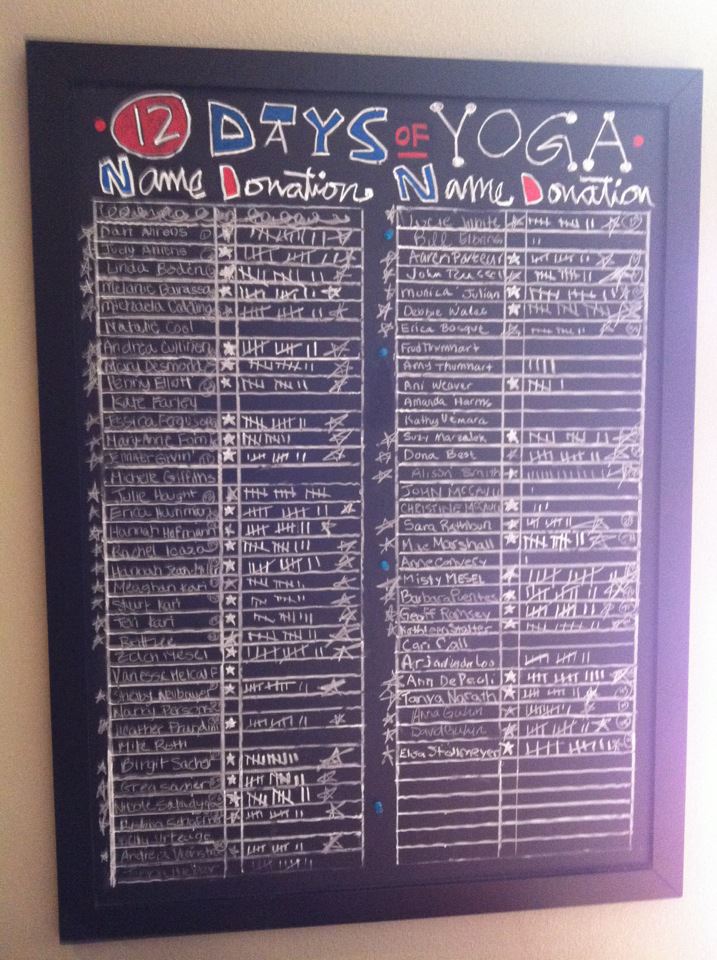 7th annual 12 DAYS OF YOGA CHALLENGE
each year, we pick a local organization up to big things in our community to partner with for our HOLIDAY KARMA CHALLENGE to keep you feeling merry and happy all month long.
Roseland University Prep is a small local high school with a mission: to support predominantly low-income Latino students in their goal to pursue a post-secondary plan of their choice. we've been teaching yoga at RUP since 2010…it's a great school with dedicated teachers and students, and, like most schools, they could use a little help from their friends.
so we're answering the call with our 7th annual 12 DAYS OF YOGA challenge.
here's how it works:
//you come to class 12 times during december (you'll feel good, because…yoga. duh.)
//you bring 1-12 items from the wish list below (you'll feel better, because you're helping do some good work!)
//we'll donate $5 to Roseland University Prep's Enrichment Fund on behalf of everyone who attends and donates! (you'll feel awesome, because we can give so much more as a team than any one of us can on our own!)
the RUP Enrichment Fund supports during and after school activities that help students gain a broader perspective of the world and opportunities around them.
***and, of course…there will be tee-shirts. grab yours for $24 and all proceeds will go toward our donation to the Enrichment Fund!
School & Classroom Supplies
Blue or black ballpoint pens | Whiteboard markers
Pencils | Highlighters | Staplers | Three-hole punchers
Tape dispensers | Scotch tape | Masking tape | Duct tape
Staples | Paper clips | Binder clips | Post-Its
Sharpies | Scissors (adult size) | 70-sheet spiral notebooks
White printer paper (8 x11) | Colored printer paper (8 x11)
Kleenex Tissue | Clorox Wipes
Folders (8 x11) | Wite-Out | Erasers
Art Supplies
Markers (any size) | Colored pencils (any size)
Paint brushes/sponges (any size) | Tempera paint (all colors)
Glitter (all colors) | Elmer's glue  |Construction paper
Sports Equipment
Ping Pong balls | Ping Pong paddles | Basketballs
Soccer balls | Volleyballs | Footballs | Yoga mats
Teen Clothing/Toiletries
Boy/girls short and long sleeve t-shirts (all sizes)
Athletic socks (all sizes) | Hooded sweatshirts (all sizes)
Sweatpants (all sizes) | Deodorant
Lotion | Hair ties | Brushes