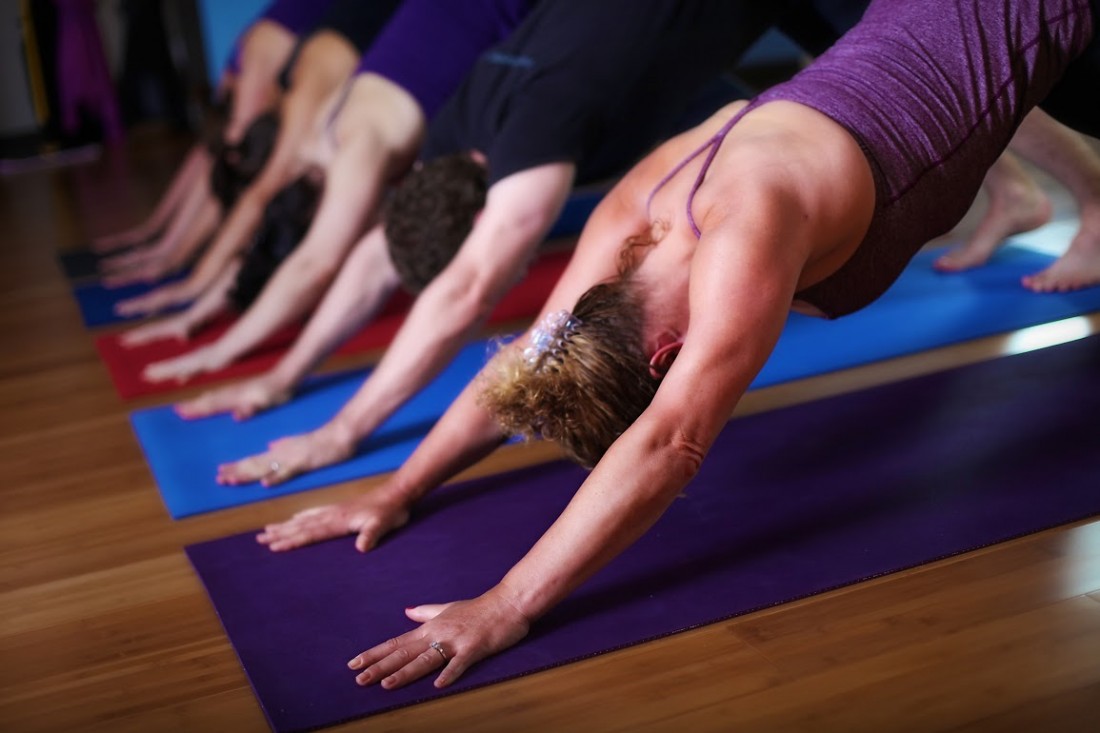 two hours. 103 poses | sunday 4 p.m.
ready for a challenge? join us sunday at 4:00 p.m. for our POWER 120 (formerly REBOOT 120…but so many of y'all are so on point, a reboot isn't even necessary).
it's 120 minutes of our foundational POWER yoga series (gotta know what the poses are…check out the list below).
these are the 103 poses that all of our classes are built around. you'll see these (and variations of these) in our weekly classes, and this is a chance to flow through them all.
we'll focus on the flow, more than the details, so you'll get a good sweat…and a good idea of how these poses work together to build a sequence that strengthens, opens, energizes and calms the body, mind and heart.
please join us…it's a "go at your own pace" kind of challenge…you'll be glad you did.
INTEGRATION SERIES
1. child's pose
2. downward-facing dog
3. ragdoll
4. mountain pose
AWAKENING SERIES
5-12. sun salutation a (8 poses/4 rounds)
13-28. sun salutation b (16 poses/3 rounds)
29-40. sun salutation b variation (12 poses)
VITALITY SERIES
41. flipped dog
42. side plank
43. crescent lunge
44. revolved crescent lunge
45. side angle warrior
46. twisting chair
47. gorilla forward fold
48. crow
49. side crow
50. tripod headstand
51. handstand
EQUANIMITY SERIES
52. eagle
53. standing leg raise front
54. standing leg raise side
55. airplane/warrior 3
56. half moon
57. crescent moon
58. revolved half moon
59. standing split
60. bird of paradise
61. standing bow/dancer
62. standing/flying pigeon
63. tree
GROUNDING SERIES
64. triangle
65. straddle
66. pyramid
67. revolved triangle
IGNITING SERIES
68. sphinx
69. locust
70. bow
71. half frog
72. half camel
73. camel
74. bridge
75. wheel
76. reclining butterfly
STABILIZING
77. scissor lifts
78. 30/60 lifts
79. abdominal twists
80. eagle crunches
81. belly-twisting pose
82. boat
OPENING SERIES
83. low lunge
84. king arthur pose
85. straddle lunge
86. straddle squat
87. half monkey/full monkey
88. super pigeon
89. super pigeon twist
90. pigeon
91. double pigeon
92. seated cow face pose
93. frog
RELEASING SERIES
94. one-legged seated forward fold (janu sirsasana)
95. seated twist
96. seated forward fold (pachimottanasana)
97. inclined plank/tabletop
99. fish
REJUVENATION SERIES
100. hips on block or shoulderstand/plow/deaf man's pose
SURRENDER TO GRAVITY
101. reclining twists
102. happy baby/dead bug
103. savasana