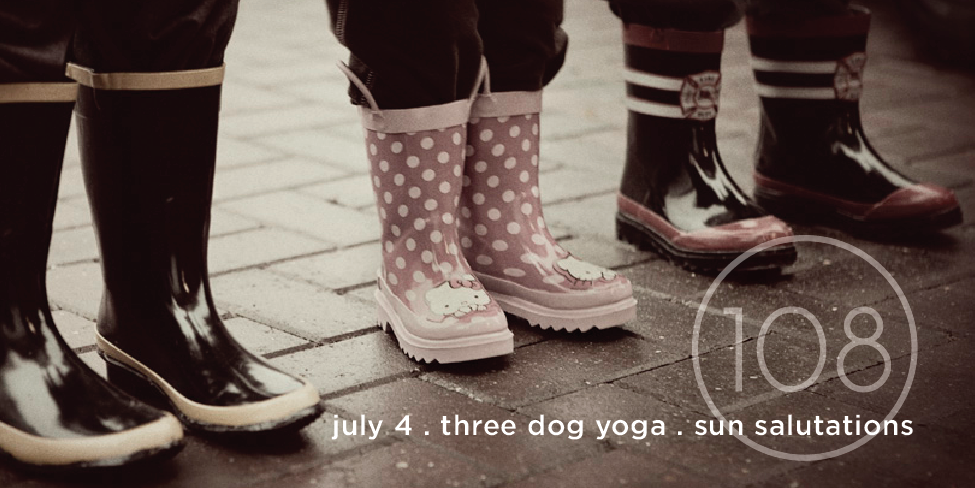 the 108 | july 4, 2016 at 8 a.m.
it will challenge us…and we will rise.
on July 4, we celebrate Independence Day with a moving meditation that's as old as…well…yoga.
we start with some deep centering breaths and warm-up postures, then breathe our way through 108 rounds of the sun salutation A series, then finish with gentle stretches and savasana…the whole thing takes about 90 minutes…and it's totally doable.
108 is a revered number in the yogic tradition, and in many world philosophies, sciences, sports and mathematics. the practice of 108 sun salutation is reflective of the number of beads on a prayer mala or rosaray…creating a moving meditation in which each salutation is offered like a prayer or offering.
it's divided easily into sets of 9 and sets of 27. we incorporate pauses and rests at these points to keep us going strong…but you can rest any time you need to.
it's a challenge for sure, but an uplifting one. and you'll be amazed at how good you feel: in body, heart and mind.
and it's all for a really good cause…this year, we're collecting new and gently used kids' rain boots for Forget Me Not Farm, a safe haven for at-risk children and youth in our community.
you can sign up here…bring family. bring friends. bring boots!!
108 sun salutations | july 4 | 8 a.m. | see you on the mat!