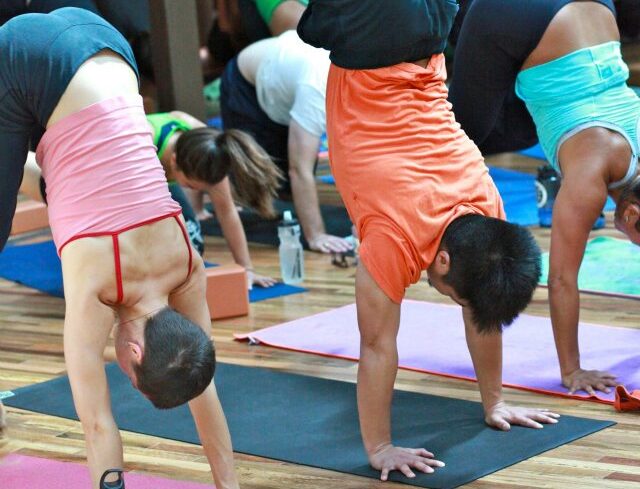 AGILE BODY, NIMBLE MIND
by this time, you already know that yoga is about more than flexibility or doing flashy poses…umm, at least we hope you know that.
one benefit of all the flexibility work we do in yoga is a youthful nimbleness in our bodies and minds. this month, we're going to maximize the heck outta that.
to get your asana moving like you were 17 again, join us online or in the studio
here's what's on tap:
monday, august 1: three-legged dog > one legged plank
tuesday, august 2: walking balance
wednesday, august 3: stepping back to warriors
thursday, august 4: scissor leg abdominals
friday, august 5: sundial
saturday, august 6: handstand hops
sunday, august 7: seated hip mobilizers
+
monday, august 8: corkscrews
tuesday, august 9: bird dog
wednesday, august 10: revolved lunge stepbacks
thursday, august 11: one-legged balances with transitions
friday, august 12: straddle flow
saturday, august 13: flipping your dog

sunday, august 14: reclined hip mobilizers
+
monday, august 15: 90/90 flow
tuesday, august 16: half moon transitions
wednesday, august 17: wild thing
thursday, august 18: reverse revolved crescent

friday, august 19: eight angle pose
saturday, august 20: leapfrogs
sunday, august 21: standing hip mobilizers
+
monday, august 22: down dog > half crow
tuesday, august 23: boat variations
wednesday, august 24: flying pigeon
thursday, august 25: bound three-legged dog
friday, august 26: vishnu's couch

saturday, august 27: standing split to boat

sunday, august 28: microdosing hip openers
+
monday, august 29: full split
tuesday, august 30: reclined arm balances

wednesday, august 31: one-legged crow
to find the class that's right for you, see our weekly Zoom and in-person schedules.
join us back in the studio with a monthly all-access membership or drop-in pass…or from wherever you are with a Zoom drop-in pass or a livestream membership…every body welcome. everyday.