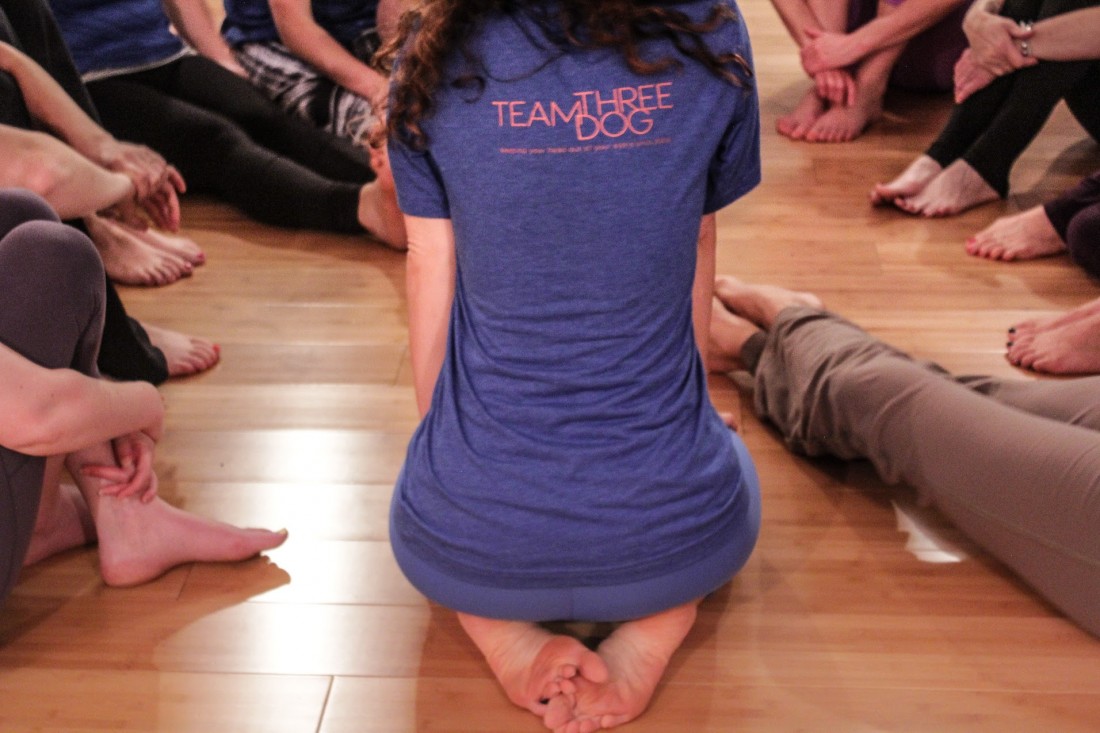 teacher training
abeen thinking about teacher training? us too!
we designed our 200 hour RYT training as a go-at-your-own-pace program, allowing you to choose your adventure. complete all the program hours on your way to a teaching certification…or take just the workshops you like for your own enjoyment.
we've developed a three-legged approach to teacher training. GROUNDING modules teach the foundations of physical practice; CENTERING modules develop your understanding of yoga off-the-mat; and in our EXPRESSION modules, you'll learn to teach…and teach to learn.
GROUNDING
skill curriculum for every body
great teaching begins with understanding your subject matter. our GROUNDING curriculum focuses on developing your understanding of on-the-mat vinyasa yoga and meditation practice.
our 200 hour teacher training program is built on 50 hours of GROUNDING curriculum. workshops include:
// FLOW 101*
// BEND BETTER (BACKBENDS, FORWARD FOLDS + SIDE BENDS)*
// DETOX + DESTRESS  (TWISTS + HIP OPENERS)*
// BALANCE 101 (STANDING POSES  + INVERSIONS)*
// FLIGHT CLUB (ARM BALANCES)*
// CHATURANGA CHECK UP
(*required for 200 hour certificate.)
CENTERING
in-depth study of yoga philosophy and science.
inspired teaching starts with inspired teachers. our CENTERING curriculum takes you beyond the mat into the studies of anatomy, physiology, history, philosophy, and language, helping you develop your unique perspective on the practice.
our 200 hour teacher training program requires 50 hours of CENTERING curriculum.
// ANATOMY FUNDAMENTALS*
// HISTORY OF YOGA*
// LANGUAGE OF YOGA*
// EXPLORING THE YOGA SUTRAS*
// EXPLORING THE BHAGAVAD GITA*
// SHOULDER SMART YOGA
// FAR OUT SADHANA RETREAT (VARIOUS LOCATIONS)
(*required for 200 hour certificate.)
EXPRESSION
teacher training + apprenticeship
to learn to teach, you have to teach. our EXPRESSION curriculum offers solid training in the craft of teaching through hands-on workshops and an extended apprenticeship program to develop your skills over time.
// LEADING THE FLOW*
// ASSISTING THE FLOW*
// YOGA FOR EVERY BODY
// TEACHING LAB: SEQUENCING
// TEACHING LAB: INSPIRED TEACHING
// TEACHING LAB: COMMUNICATION
// 40 HOUR APPRENTICESHIP*
(*required for 200 hour certificate.)
APPRENTICESHIP: admission to our apprenticeship  requires at least one year of dedicated yoga practice and completion of at least four GROUNDING + CENTERING workshops, as well as the LEADING THE FLOW and ASSISTING IN FLOW trainings. the apprentice program is a twelve-month commitment to small-group training sessions and individual apprenticeship coaching. our next apprenticeship cohort begins in january 2020. complete schedule will be posted by august 31, 2019.
required + suggested reading
to round out your training experience, you'll dive into the great modern and classical yoga texts.
// The Bhagavad Gita*
// The Yoga Sutras*
// The Hatha Yoga Pradipika*
// Yoga Anatomy*
// The Four Agreements*
// Light on Yoga
// The Heart of Yoga
// Living Your Yoga
// Journey into Power
// Preventing Yoga Injury
// Buddha's Brain
// Shambhala:The Sacred Path of the Warrior
*starred works denote required reading / response for completion of our teacher training program. other works will be referenced in training sessions.
completion + certification
to receive a certificate of completion from the three dog yoga school teacher training program, candidates will:
// complete SKILL + KNOWLEDGE  student certificate (100 hours)
// complete 12 month APPRENTICESHIP training, practical exams and assigments (80 hours)
// complete 10 hours of COMMUNITY TEACHING
// required READING and written response projects (10 hours)