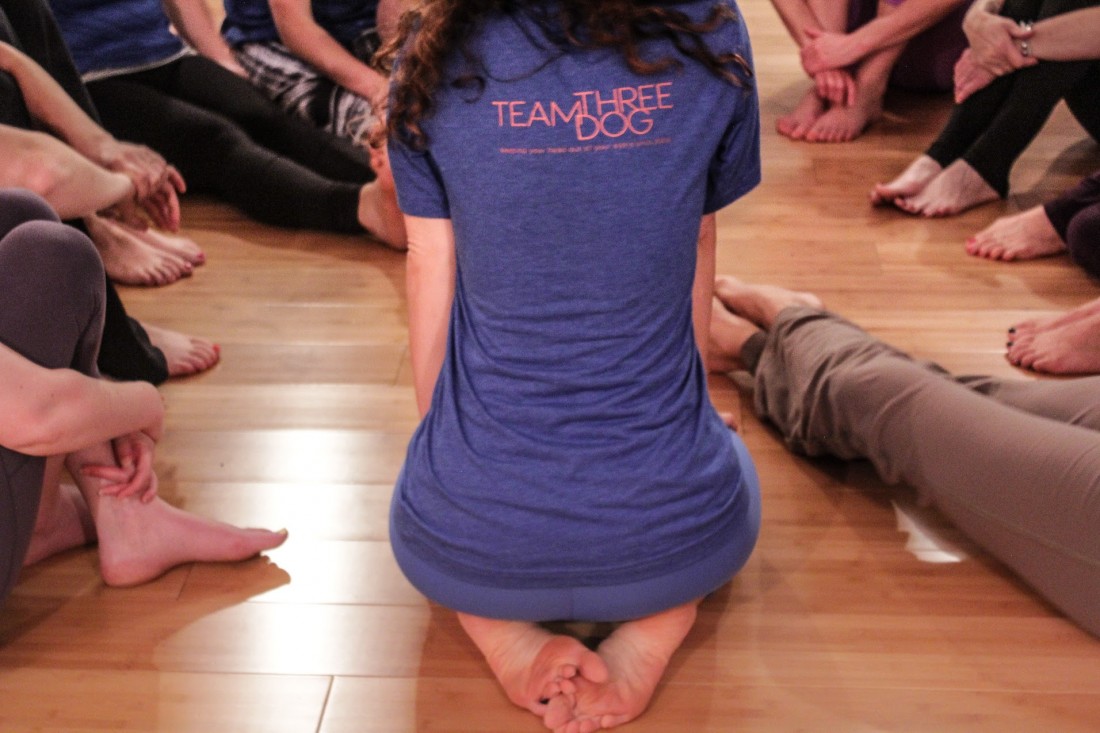 3DY teacher training
at three dog yoga, we teach power yoga for every body.
we value people over poses. our practice is about getting present, peeling back layers of tension and becoming stronger in body and mind.
we created our teacher training program in 2012 with the vision to share yoga with as many people as possible.
we believe to teach is to be of service: you will learn how to meet students right where they are to best support their practice.
we believe in taking a stand for others: you will learn to teach in a way that leaves each and every student feeling empowered and open to possibility.
we believe structure creates freedom: you learn to teach a powerful vinyasa sequence with adaptations that can take you (and your students) anywhere.
we believe in learning by doing: you will learn in Master Class settings, putting principles into action immediately to embody your learning….get real, live, hands-on teaching experience with coaching and feedback.
we believe in honoring your process: we approach our training as we do our practice, with rigor…and also lightness. we'll help each other grow…and laugh a lot along the way!
we are a 200/300-hour Yoga Alliance-approved teacher training school, led by E-RYT Anna McLawhorn, who has completed trainings with Baron Baptiste, Leslie Kaminoff and Rolf Gates.
our graduates teach in a variety of settings: studios, health clubs, schools, medical centers, corporate wellness programs, resorts, and private clientele.
we believe that, as teachers, we are first and foremost students of yoga…our love of the practice is what allows us to share it powerfully.
are you ready to make a difference in the lives of others? to bring more peace to your corner of the planet? if so, we're ready for you! read on.
200-HOUR RYT TRAINING COURSE CURRICULUM
our 200-hour RYT training follows a four-module system to allow students to learn at their own pace, and to focus deeply on each subject area: anatomy-informed teaching, assisting, philosophy, and personal practice development.  these trainings may be taken in any order…attendance at all sessions of each training is required for course completion certificate.
TEACHING VINYASA
eight-week teacher training course
this training is the heart our 200-hour program. it is an active participation program and requires intense commitment. trainees will:
learn to lead vinyasa and guide alignment from a breath-centered perspective
use key anatomical principles to coach students into lightness of being
develop listening and observation skills to create inspiring classes for every body
ALIGNMENT IN ACTION
three-day hands-on assisting training
this workshop explores hands-on assisting and physical anatomy fundamentals.
trainees will gain an understanding of:
skeletal alignment and muscular action
sthira and sukha in the five major pose categories
the fundamentals of breath-centered assisting
YOGA FOR LIFE
six-week practice/discussion course
this course explores the philosophy and history of yoga. trainees will experience:
yoga philosophy and its application to a 21st century lifestyle
how our bodies speak our minds and hearts
the transformation created through deep commitment to practice
EMBODYING YOUR PURPOSE
five-day yoga/meditation/inquiry retreat
this immersion allows prospective teachers to develop a deep connection to personal practice as a foundation for a successful teaching practice. trainees will:
gain mastery of vinyasa practice and understand its effect on energetic anatomy: breathing, circulation, voice, the central nervous system, and the chakras
dive deeply into a self-awareness practice
practice powerful communication: listening, observing, responding, and sharing
COURSE COMPLETION REQUIREMENTS
our 200-hour training is based on the idea that learning works best with plenty of opportunity to integrate, explore and practice. we've divided our training into modules and assignments to allow trainees to pull information in, integrate it over time and eventually reach an embodied understanding. to receive a certificate of completion, trainees will complete:
attendance and written response to each of the workshops listed above
10 hours of practice teaching outside of scheduled training
10 hours of personal practice outside of scheduled training and studio classes
10 hours of community teaching to a group that does not currently have access to yoga
5 read-and-respond assignments: Journey into Power, The Four Agreements, Yoga Anatomy, Preventing Yoga Injury and The Heart of Yoga
final practical exam: teach and assist one 60-minute class and receive feedback
we are dedicated to creating great teachers with strong leadership skills and a passion for empowering others.
are you up for that? we're ready for you. send us an application today!